ONE Better World Collective is a non-profit organization and multi-platform initiative with a 10-year strategy to empower people around the world to implement the United Nations Sustainable Development Goals and the 2030 Agenda through a transformative message of love based on the principles of human dignity and universal responsibility.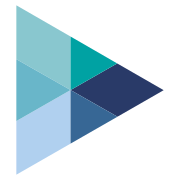 Project Management
2 years Board Member (Vice President) at PMI Chapter Frankfurt e.V.
2011 – 2021 – Coordinator Regional PMI Meeting Local Group Heidelberg/Metropolregion Rhein-Neckar
In January 2021 the PMI Germany Chapter started as a merger of the 4 existing chapters in Germany. In January 2012 Roland Dumont du Voitel (VP Finance, PMI Frankfurt Chapter), Frank French (President, PMI Frankfurt Chapter) and Jürgen Ruff (VP Members & Initiator VP Region, PMI Frankfurt Chapter) sat together and discussed the future and necessary adjustments to the bylaws of the chapter at that time with the vision that a joint chapter in Germany would be a great solution. Probably there were others with the same idea. It is nice to see that this circle is now closed.In March 2008, the Heidelberg Region started your Stammtisch, founded by Thorsten Speil. In 2011, my representative role became the main coordinator of the Local Group of the Rhine-Neckar Metropolitan Region. In between even with another Stammtisch in Mannheim.
After 10 years, 60 events and over 1500 participants it is a good time for me to end this great series. I.e. since the beginning of the event in Heidelberg and Mannheim included, we have brought together almost 100 events and about 2000 participants.
Thank you
My thanks go to you, the participants, who have enriched these meetings with their discussions and interest as well as to the speakers with their great contributions.
Diversity & Inclusion Hero 2018
SAP SE asked its 22,000 employees in Germany to nominate their Diversity & Inclusion Heroes 2018!
Among 216 great projects, the jury selected 4 heroes.
1st place for Jürgen Ruff and his commitment to the Heart Racer Team e.V.
As an athlete, I have experienced highs and lows myself. Helping disadvantaged people in life as an athlete and coach with the Heart Racers is a matter of the heart for me. That's why I like to compete as a runner (half marathon and marathon) as well as a triathlete (sprint, Olympic and middle distance) or am available as a coach.
We are looking for committed people who want to make a difference beyond sports. To do sports together with others and if they want to participate in competitions. Inclusion is our goal. Because the happiness to reach a finish line in whatever time should be allowed to experience every child.
We collect donations and look for sponsors to support our projects to help disadvantaged children.
Award: Heart Racer of the Year 2013:
"Jürgen Ruff is Heart Racer of the Year 2013. He has not only done many runs and triathlons for the Heart Racer team and additionally raised funds with his own campaigns. Jürgen was also involved as a volunteer guide in triathlon training with visually impaired children, both in school trainings and at the youth triathlon in Mannheim. And he got some of his colleagues at SAP excited about the Heart Racer projects. A great effort!"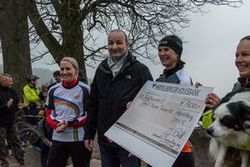 Sky Ladder Run 2016 – 138 run for disabled children
1196.50 euros were collected on the day. The run is free, but many runners donated and at the finish line there was then the check presentation from the sponsor amontis consulting to the Heart Racer board. Jürgen Ruff handed over the check in the name of Roland Dumont du Voitel and said: "I think it's great that so many have participated and would therefore like to add another 300 euros from myself!"
Picture: Presentation of the check from left to right: Franziska Welk (Heidelberger Volksbank), Jürgen Ruff (representing amontis consulting ag), Anja Wolf (Heart Racer Team board member), Dagmar Schumacher (Heart Racer Team board member) Stefan Lohnert (Heart Racer Team board member) – missing on the picture.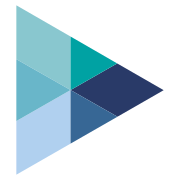 Racing Wheelchair for Julia
On 30.11.2014 the Heart Racer sky ladder run took place again. We collected money for a new racing turtleneck for Julia and until Christmas the necessary amount was collected. Many thanks to all supporters and donors.
More info on the  Heart Racer Team Facebook Page